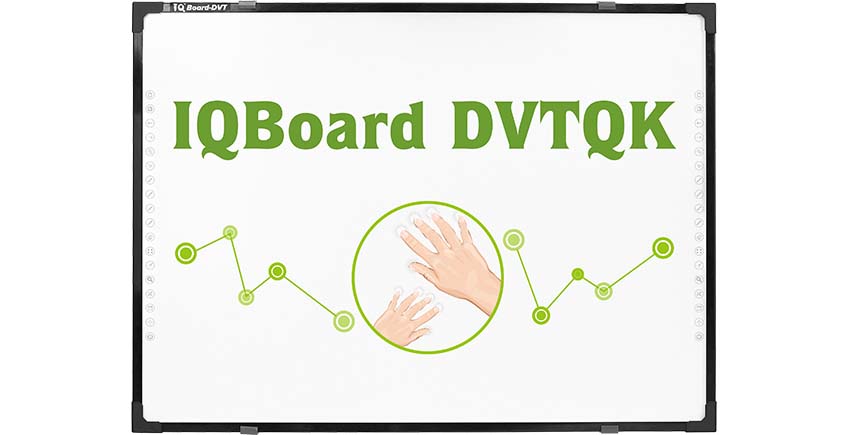 The interactive whiteboard of IQ smart board
We have smart board interactive whiteboards called IQBoard IR and IQBoard DVT. IQBoard IR is an infrared interactive whiteboard with up to 32-point touch function. It does not require a special pen. It has stable performance and durable usability. In addition, IQBoard IR has low casting maintenance costs and low failure rate Now let us understand the function of IQBoard IR which includes multi-touch, gesture recognition, support for manufacturer's writing, easy to maintain, sturdy structure and perfect writing experience. The second is IQBoard DVT, which is a high-performance whiteboard that can be used to achieve a perfect user experience with the touch of a finger. IQBoard does not require a special pen. IQBoard has a slim black frame and built-in high-speed camera, which has a lower failure rate and easier after-sales maintenance. It improves cooperation between people and stimulates brainstorming.
The projector IQProjector V2 with a laser engine has a service life of 25000H, and has excellent color reproduction performance, which can meet the needs of education and business. The functions of IQProjector V2 include energy saving and direct power on/off. The laser projector can reach the maximum brightness and turn on almost without immediate preheating or cooling time. The color reproduction effect is excellent. The laser light source can achieve 82% detailed color reproduction. Excellent image quality and performance. It also replaces the traditional two-projector solution and has a perfect visual effect. It not only solves the problem of color changes and color casts, but its dust-proof design is also equipped with an externally installed 3M dust-proof filter to prevent dust from entering the interior and Improved service life. The automatic reminder function of the dust filter reminds the user to clean/replace the filter. It also has complete 3D technology and various interfaces. For more smart board interactive whiteboards, please visit www.iqboard.net.