More and more enterprises are adopting technological capabilities to make their conference rooms more intelligent and efficient. Both interactive flat panels and little gadgets smart pens are tools that can make meetings more intelligent and efficient. Here, we provide six ways to empower your local smart meeting. In addition, we also introduce a series of meeting products from iqboard.net to help you create a collaborative and highly engaged arrangement.
1. Share and transfer ideas through interactive flat panel
Interactive flat panels have the functions of real-time collaboration and interaction, multimedia presentation and presentation, sharing and accessing information, digital recording, remote participation, and connection in intelligent conferences.
1.1 The strengths of ideas sharing
You can improve participants' participation and communication effectiveness by sharing and transmitting ideas through interactive flat panels. Participants can express their opinions and suggestions directly on the interactive flat panels and discuss with other participants. Improving participation and communication effectiveness helps promote the collision and exchange of ideas. It enables the innovation and decision-making process of intelligent meetings.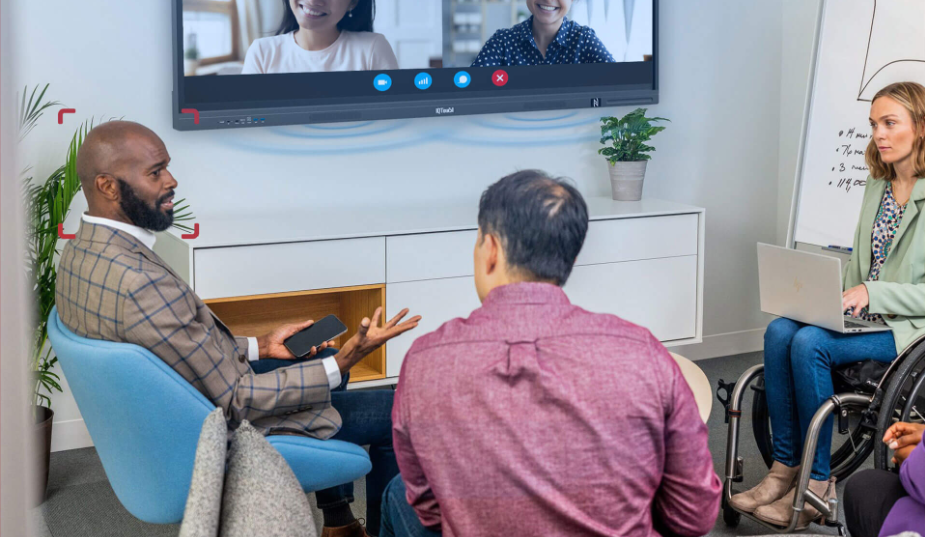 1.2 Convey your ideas with impactful IQTouch
With the interactive display like IQTouch, you can be a facilitator to convey your ideas to team members quickly and effectively through smooth writing and rich audio-visual content from the high-resolution 4K display, enhancing interaction and collaboration in your meeting.
2. Enhance interaction with the audience through interactive pen display
Interactive pen displays can display and demonstrate content more vividly. The speaker can directly write, mark, and draw on the Interactive pen display to convey information more clearly and intuitively, enabling the audience to understand better and absorb the speech content.
2.1 Real-time markdown on Interactive pen display
Mark and edit in real-time on the screen, discuss and refine content together. This real-time collaboration helps to enhance the team's collaborative ability and promotes the collective effect of intelligent meetings. Interactive pen displays can also provide more visual and interactive elements, helping to enhance the audience's memory and understanding of conference content. Through interactive tagging and annotation, listeners can participate and understand the speech content more deeply, thereby improving their memory of the meeting content.
2.2 The role IQPodium plays in innovative meeting
Interactive pen displays can become a tool for collaboration and cooperation among attendees. Through versatile IQPodium, you can interact more with the audience during sessions. Whether it's a projector, LED display, or interactive flat panel display, the screen content and annotations you make during the meeting will be synchronized to the conference room monitor, which enhances the interaction between you and the audience.
3. Strengthen engagement through brainstorming
Brainstorming encourages participants to freely express and share ideas, viewpoints, and solutions. It is a method of idea-gathering to solve problems or generate new ideas, which can stimulate participants' creativity and innovative thinking.
3.2 The positive effects of brainstorming
Brainstorming increases participants' participation and initiative. They can inspire and suggest each other, work together to find the best solution, promote comprehensive discussion and decision-making, and thus enhance team cohesion and cooperation.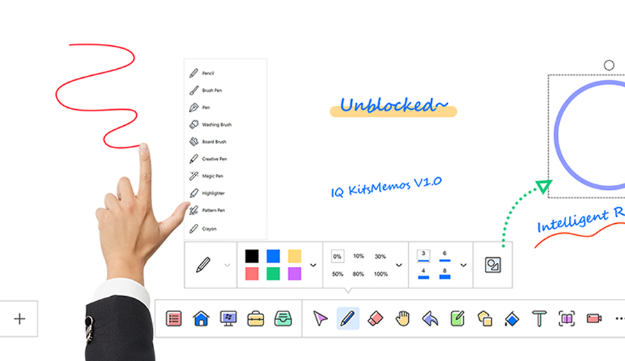 3.2 The applications of whiteboard software JoinMemos
The whiteboard software JoinMemos integrates multiple functions and can enhance team collaboration during meetings. You can use JoinMemos to maximize the collection of valuable and influential ideas through brainstorming, record the process of blueprint development from prototype to maturity through timely annotations, and obtain rich resources and information through cloud platform content sharing and online access.
4. Enhancing collaboration through wireless presentation solution
Wireless sharing enables attendees to share quickly and access information such as files, documents, images, videos, and more.
4.1 The function of seamless wireless sharing
Whether it's presenting product demonstrations, report data, presentation slides, or other information, attendees can directly display it on the screen, and others can watch and participate in discussions in real time. In this way, attendees can share and showcase their content in real-time, promoting collaboration, discussions, and exchange of opinions. By sharing screens, attendees can directly present, edit, or tag on the screen to better express their viewpoints and ideas. Wireless sharing significantly improves the efficiency and participation of the meeting.
4.2 Utilize smart IQShare to share everything valuable
The powerful sharing capabilities of IQShare can easily project the screen of your laptop or mobile device onto the conference room display screen. The use of IQShare is not only convenient and convenient, with just one click for instant unlimited sharing, but also supports up to 32 user connections with high flexibility.
5. Annotate creative ideas anytime with Smart Pen
Whether in shared documents, presentations, or digital whiteboards, the smart pen can directly write, draw lines, or create graphics on the screen to highlight key points, provide explanations, or engage in discussions.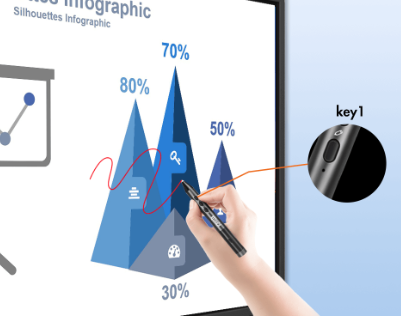 5.1 The significance of annotation
This real-time annotation and tagging can enhance the interactivity and participation of meetings. The smart pen allows attendees to annotate and mark in real time during meetings.
Through the annotation function of the smart pen, attendees can highlight and emphasize critical information, making it more straightforward to understand. Whether it is to circle important parts, cross out incorrect content, or add supplementary explanations. Therefore, smart pens can help attendees better understand and remember essential information during meetings.
5.2 The power of intelligent IQ SmartPen
Intelligent IQ SmartPen can be a wireless presenter to flip your PowerPoint slides and a laser pen to focus on your content. In addition, its custom button settings provide greater possibilities for more application scenarios.
6. Enhance immersive audio experience through the soundbar system
Clear sound transmission helps reduce misunderstandings and communication barriers, improving meeting efficiency and participation.
6.1 The benefit of a sound system
The sound system can provide clear and high-quality sound transmission, ensuring that attendees can hear the speaker, participants, or other audio content, allowing attendees to listen and focus on the speech content fully.
6.2 The magic of IQ Soundbar
The physical components of IQ Soundbar use lightweight vibrating membranes and 19mm spherical silk membranes, which can meet various sound effects, allowing you to present perfect video works in the conference room and bring a theatrical experience to the conference audience. This immersive feeling can enhance the participants' sense of participation and engagement.
Final thoughts
In conclusion, as a leading provider of audiovisual equipment and solutions, IQ aims to promote local and remote interaction and collaboration, enhance the capabilities of educational institutions and enterprises, and provide numerous effective solutions and technical services for academic and business applications. For more information on our brilliant meeting room and its related product, visit our product page or contact us for further inquiries.
Here are some other articles that we think might interest you:
The 10 Advantages of the Video Conference
What Should I Choose in My Meeting Room?