Transferring files and data between different devices is essential and significant for university professors and lecturers. Although cloud access technology is becoming increasingly advanced, diverse software choices, complex access methods, and payment thresholds still confuse many teachers or lecturers. Many teachers have found that transferring devices and files from one device to another poses specific challenges. Therefore, this article will seek a new solution from the teachers' perspective. We will compare the industry-leading
IQShare Button
with the intelligent BenQ InstaShare Button and consider how to select the most suitable data share button from a multidimensional perspective.
1. The importance of seamless data sharing in teaching and academic reporting
Nowadays, data exchange transforms how organizations can securely retrieve more data from their network and other organizations. The functional share button has an essential significance and role in teaching and academic reporting by university professors.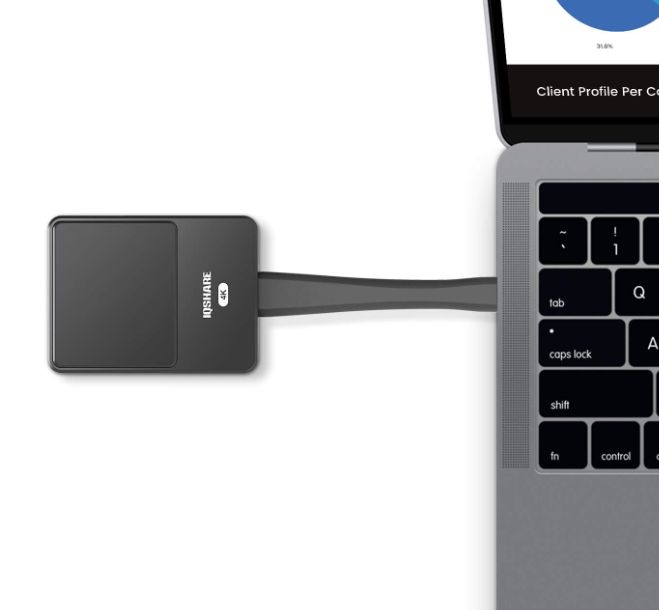 1.1 Real-time demonstration of courseware and sharing of new ideas
In university forums, the share button enables professors to present and share content in real time during lectures or academic presentations. By pressing the sharing button, professors can share their educational screen content or presentations to classroom display devices, on the other hand, students can also mirror the content from the screen wirelessly. The professor only needs to press the sharing button, and the system will automatically transfer the screen content to students or viewers without complex settings. Only one press start saves the professor's time and energy, allowing them to focus more on the teaching or presentation.
As a result, every student can focus on the classroom and clearly and coherently follow and understand the teaching or speech content.
1.2 Improve the efficiency and fluency of teaching
The sharing button can improve the efficiency and fluency of professors' lectures or academic presentations. By quickly sharing screens or manuscripts, professors can better control lecture rhythm and time, providing a more coherent and efficient learning or presentation experience. Professors can present and explain content more smoothly, avoiding wasting time switching devices or adjusting settings.
1.3 Improve interactivity
One of the original intentions of the share button design is to enhance the interaction between the audience and the speaker. The share button can enhance the interaction and participation between professors and students. By sharing screens or manuscripts, students or audiences can more directly participate in teaching or speeches, ask questions, take notes, or engage in real-time discussions.
2. The comparison of IQShare Button and BenQ InstaShare Button
IQShare Button and BenQ InstaShare Button have many commonalities and distinguishing characteristics between these two products. Let's compare them in more detail from product performance perspectives, such as difficulty of use, security, compatibility, and level of interaction.
2.1 The commonality of IQShare Button and BenQ InstaShare Button
as tools for data transmission and sharing, the innovative IQShare Button and BenQ InstaShare Button have essential performance transmission devices, such as convenient usage, high compatibility, and information security.
2.1.1 Simple usage approach
With just one click, you can instantly share the screen content of your laptop. The wireless demonstration systems of IQShare Button and InstaShare Button allow you to free yourself from the constraints of cables and adapters by eliminating the need to install cumbersome cables. Every time you want to share your laptop screen, insert the button into the laptop, press and demonstrate.
You can choose the media to share through the screen of your personal computer and the touch control of IQTouch, or you can sit anywhere in the room and click the BenQ InstaShare Button button to share content without restrictions. Plug-and-play solutions allow everyone to focus entirely on discussions.
2.1.2 Highly secure information security
Both functional IQShare Button and BenQ InstaShare Button use AES 128-bit encryption. Advanced Encryption Standard is a widely recognized encryption algorithm that can use the same key for encryption and decryption. In file sharing and data transmission, AES 128-bit can effectively protect the confidentiality of shared files and transmitted data, resist various encryption attacks and cracking attempts, and encrypt and decrypt a large amount of data reasonably. It can also prevent unauthorized personnel from obtaining crucial confidential information. It is an advanced encryption standard for screen sharing with high security and long-lasting stability.
2.1.3 Flexible compatibility
Whether using a practical IQShare Button or BenQ InstaShare Button, you don't need to worry about laptop discrimination chain and device connectivity issues. Because they are all compatible with the three mainstream operating systems of Windows, macOS, and Chrome, no matter what method of laptop you use, you can wirelessly share content with everyone in the room.
2.2 The attractive features of IQShare Button
Compared to BenQ InstaShare Button, the brilliant IQShare Button has many superior performance features, such as more stable data transmission performance, making the teaching atmosphere more stable.
2.2.1 More stable connection
BenQ InstaShare Button uses universal technology to connect devices, which may cause users to wait longer during transmission.
IQShare Button can provide faster and more efficient data transmission and low latency and high bandwidth connections by optimizing transmission protocols and hardware design. Meet high-difficulty scenarios such as high-definition video transmission applications. It can also offer more comprehensive software and hardware support, making it easy to integrate into existing systems. For example, applying the IQShare Button in the IQ solution can bring more vital collaboration and higher convenience.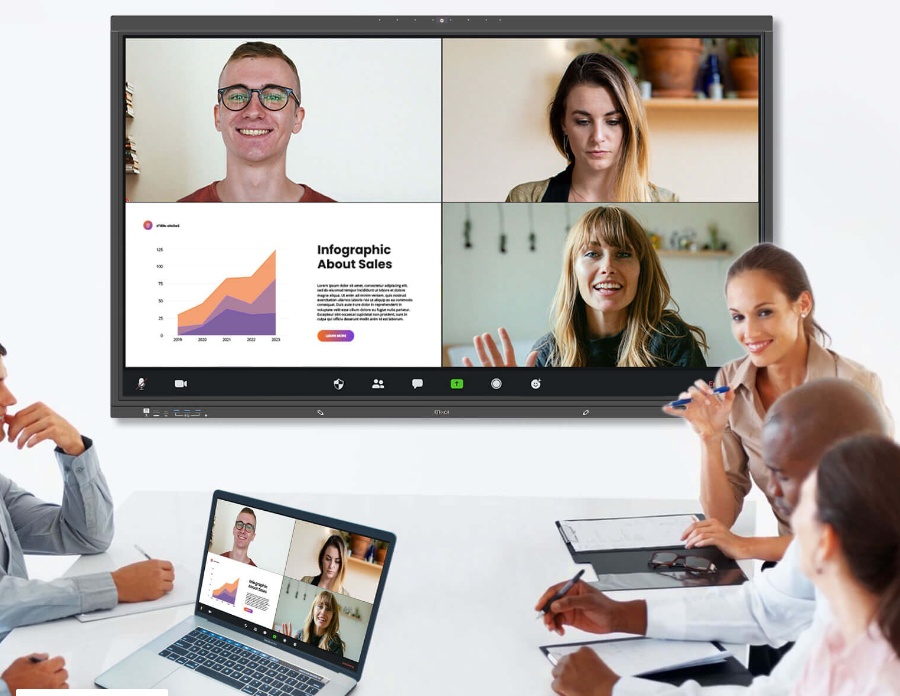 2.2.2 Gather more ideas
IQShare Button supports up to 4 Buttons casting to screen and 32+ attendance can mirror the screen from the display at the same time. There is an old saying in China that three cobblers are better than Zhuge Liang. So, we cannot ignore the power of these three more people to share files and discuss ideas. In addition, temporary users do not need to connect to the network when sharing files. They can still display or wirelessly share their laptops in the office through IQShare Button, allowing everyone to participate in the discussion.
2.2.3 Create a highly interactive atmosphere
The helpful IQShare Button allows users to mirror their device screen onto their IQTouch displaydevice fully. Teachers can connect their devices to IQTouch screens without wired connections and showcase their content through screen mirroring, providing a more flexible and convenient presentation experience.
Multiple listeners can also take turns using the IQShare Button to connect their devices to the IQTouch screen, achieving seamless switching and sharing.
And everyone can see the content displayed on the user's device, making it easy to share documents, presentations, charts, and other content. By sharing charts, data, or case studies, students can engage in in-depth discussions based on the document's content, raise questions, share viewpoints, and explore analysis and solutions, stimulating creative thinking and collective wisdom. By sharing multimedia files, students can actively participate in classroom discussions and feel their opinions and contributions valued, thereby promoting deeper interaction and cooperation.
Final words
When choosing between the IQShare Button and the BenQ InstaShare Button, it's essential to consider your specific needs for interaction, connection stability, data safety, and compatibility. If you prioritize faster transmission speed and a more interactive classroom experience, the IQShare Button may be the ideal choice. However, if you value simplicity and easy usage, the BenQ InstaShare Button could be a suitable option. Remember, it's crucial to assess your requirements and explore the features of each button to make an informed decision. If you are still heistate about how to choose the right share button, you can contact us and learn more about it.
Here are some other articles that we think might interest you:
The Future of Education: Smart School Solutions Lead the Way
How to Improve Meeting Effectiveness: 4 Tips and Smart Solutions
Interactive Flat Panels in Distance Learning: Bridging the Gap Between Students and Teachers